Subscribe to monthly Press Review
Monthly Press Review is a Defence & Media publication that regularly features selected writings from Pakistan's national press. A panel of editors critically gleans through Pakistan's print media and the result is an array of articles selected every month from Pakistan's leading English language dailies.
Mail us at bookmarkclub@hotmail.com
or send a text message at 0313 3011779 (Text only)
You get your copy delivered any where in Pakistan and also abroad.
Related products
Best Current Affairs Magazine, Monthly Current Affairs Magazine Pakistan
Current Affairs Digest, Pakistan Affairs Digest, Newsline Foreign Affairs, Weekender, Global Age Global Village Space
Subscribe to the Herald magazine, The Economist Friday Times Time magazine
CSS Books for Optional Subjects
Books:
Ghost Wars by Steve Coll
Cover Price in Pakistan Rs 150
Annual subscription rates Rs 2500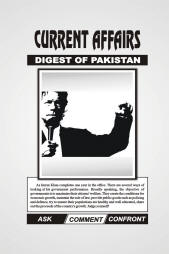 Aviation Magazines, Arts & Design,Business, Pakistan Car Magazine, Children, Computers, Family, Fashion, Film, Food, General Interest, Health, History, Home & Garden, Intellectual, Men, Military, Nature, Science & Technology, Sports, Urdu magazines, Women
Current Affairs Digest January 2021
Important Essay Topics for CSS 2021
CSS essay Topics 2021
Expected topics for CSS essay 2021
CSS essay Topics 2022
Current Affairs topics for CSS 2021
Important Essay Topics for FPSC Exams
Important CSS Essay Topics 2021
How to Pass CSS exam in first attempt
Important Essay Topics for CSS 2021
CSS essay Topics 2021
<![if !vml]>

<![endif]><![if !vml]>

<![endif]>
Great Reasons to Subscribe now
No additional payments: You do not have to pay any additional amount for special issues.
Price Stability: You subscription guarantees price stability.
More big saving: as a subscriber you get regular discounts on the magazine.
Overnight delivery country wide: You get your copy delivered before it reaches the bookstall.
Free postage & handling: You'll get free postage and handling on all pre-paid subscriptions.

Read Web Edition September 2010